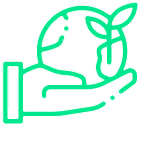 Brazil's Forest Code entered into force in 2012 and establishes the rules for land use in rural areas to preserve and restore native forests and vegetation. The environmental law requires that landowners in rural areas be registered into a government database as well as fulfill a number of requirements, without which they lose access to credit.
Sugarcane growers took a head start and voluntarily signed the Green Protocol in 2007, an important tool to protect the environment and increase sustainability.
Since this protocol was introduced, sugarcane growers in Brazil have stopped burning as a pre-harvest method, and committed themselves to preserving and restoring native forest in their properties. They have also protected and restored water springs, thousands of hectares alongside streams and riverbanks and have planted millions of seedlings.
water springs preserved and recovered
hectares of land alongside streams and riverbanks protected and recovered