As the US president visited Paris for Bastille Day celebrations, his host his rolled out all of the paraphernalia of state, the pomp and ceremony so reportedly beloved by his American counterpart, in a charm offensive many have suggested was also an effort to get the latter to reconsider his stance on the Paris Agreement. And it seems to be working – Trump's statement during the joint press conference that "something could happen with respect to the Paris accord: we'll see what happens; we will talk about that in the coming period of time", was not insignificant.
Is this a coming in from the cold? Did the president keenly feel the chill wind of isolation at the G20 which in many respects became the G19, especially on climate change? No-one expects Trump to abandon wholesale his fossil-focused energy policy, but there was a clear softening of rhetoric during the Paris visit – quite the coup for neophyte Macron.
Macron famously parodied Trump's "make America great again" rhetoric with his quip of making the planet great again. With recent announcements of France's ambition to ban the sale of all petrol and diesel cars by 2040, Macron is clearly positioning himself as a European leader in environmental stewardship and clean transport.
One of the EU's signature initiatives in demonstrating its leadership on climate change is the Clean Energy Package that proposes measures towards clean energy transition. But the Commission's proposal for a 27% target for renewable energy is too low. Proposals by European Parliament committees to increase that target to 35% or 45% are a step in the right direction.
Transport is responsible for fully one quarter of the EU's greenhouse gas emissions. Which is why it makes no sense for the Commission to lump all conventional biofuels in together and propose cutting their maximum share in the transport mix from 7% to 3.8%. We have repeatedly stated that biofuels need to be considered on their performance, not their source.
Brazilian sugarcane ethanol is one of the best-performing biofuels, cutting GHG emission when placed in the EU market by more than 70% compared to petrol, and still by more than half (55%), even when the GLOBOIM study's ILUC factors are taken into account. Stated concerns about land use change are therefore no grounds on which to justify the reduction of sustainable biofuels such as Brazilian sugarcane ethanol.
Integrating sustainable biofuels now into European transport in significant numbers will really help EU leaders achieve 2030 targets, paving the way for more ambitious 2050 targets. Just look at Brazil, where the deployment of sugarcane ethanol in flex-fuel cars has directly cut transport CO2–equivalent emissions by 370m tonnes in just 13 years.
It's clear that it is perfectly feasible to significantly cut transport emissions if we use the clean technologies available today. If the EU is serious about meeting its own Paris Agreement commitments, it must therefore adopt serious and bold transport emissions reduction targets. As MEP Bas Eickhout's stated, European policymakers are only credible in criticising Trump if they can themselves deliver at home. It would be an irony indeed if the Americans came back into the Paris Agreement fold, only for the EU to spectacularly wimp out on its own targets.
But the very real fear is that Member States will reject more ambitious targets. Macron will need to brandish his environmental credentials by not letting that happen. And EU policymakers should take advantage of their summer holidays to ponder on Eickhout's comment. Let's hope they return to Brussels in September with emboldened ambitions when it comes to transport emissions.
Wishing you all a great summer!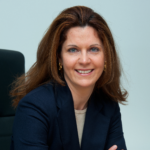 Géraldine Kutas
A seasoned professional specializing in international trade policy, Géraldine Kutas leverages over a decade of experience to strengthen UNICA's activities across the European Union, the United States and Asia. She has a deep expertise in biofuels and agricultural policies, coupled with extensive exposure to multilateral and regional trade negotiations in agriculture. Ms. Kutas is the author and co-author of several international publications on these topics.
Before joining UNICA, she was a researcher and a professor at the Groupe d'Economie Mondiale at Sciences Po(GEM), Paris, and coordinator of the European Biofuels Policy research programme (EBP). Ms. Kutas has also worked as a consultant at the Inter-American Bank of Development and for agro-business firms.
Ms. Kutas has a Ph.D. in International Economics from the Institut d'Etudes Poliques de Paris and a Master degree in Latin American Studies from Georgetown University, Washington DC.