Ecofys, a well-respected Dutch consultancy, is out with a new study that effectively eviscerates the association of biofuels with "land grabbing," that favorite charged-phrase NGOs pedal that industry is in the business of pushing locals off their land.
The meaty conclusion from Ecofys: "At best, only 0.5% of all deals in the Land Matrix concern land grabs for EU biofuels."
Bear in mind, Ecofys is an environmentally minded consultancy, if you will, that does studies for the European Union, industry, and even NGOs. This particular study was commissioned by ePure, the European Ethanol Producers.
The Ecofys study says that biofuels used in the EU market basically do not come from feedstocks produced from "grabbed" lands, undermining among NGO arguments against EU biofuel policy is that biofuels "take land away" from food production and rural communities.
The study cross checked a number of entries in the Land Matrix of the International Land Coalition. Although the best informed global database on land deals, the Land Matrix "is based on reports from the media and NGOs which both often overestimate scale," says Ecofys.
Nonetheless, the matrix had a total of 617 deals in its system, covering around 38 million hectares, as of March 2013.
This extract lays out the message Ecofys conveys with this study: "Of these 617 deals, we assessed 66 deals, which sum up to 25.8 Mha, or 67% of the total acreage in the database. This includes the 50 largest deals around the world, as well as the 5 largest deals given per sub-region in the Land Matrix. We checked these deals by collecting all possible and available information about these deals on the internet and sometimes from private investigation, by checking information with networks within the respective countries."
What does Ecofys have to say about NGOs wild claims? "Action Aid claims that 'it is estimated that biofuels have been involved in at least 50 million hectares being grabbed from rural communities.' This is 28 times (!) our findings of about 1.8 Mha. The total extent of land deals that can maximally be connected to the EU biofuels policy in past and until 2020 is probably another ten times smaller." Here is the latest report on social impact of EU biofuel policy by Action Aid.
Finally, the study argues that the voluntary schemes introduced in the framework of the so called RED (EU Renewable Energy Directive) actually helped the development of better regulation in third countries on social and economic aspects of biofuels production. A very successful example is Bonsucro, The Better Sugarcane Initiative, to which UNICA is member and which certifies — according to EU standards — 29 Brazilian mills, covering 6.5% of the total Brazilian sugarcane area and more than 2 billion liters of sugarcane ethanol.
The Ecofys study looks at the effect of the EU policy promoting biofuels, hence starting from 2009. It is worth to notice that from 2008, ethanol exports from Brazil to the EU considerably decreased as the graph here below shows (from 1,661.4 million liters in 2008 to 97.21 million liters in 2012); therefore there is clearly no connection between land "grabbing" and increasing demand and exports for biofuels to EU in the case of Brazil.



For more, find the Ecofys report here. Pangea, which represents pan-African bio-energy interests, produced a short take on the report.
Looking forward to more reactions to this report.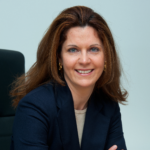 Géraldine Kutas
A seasoned professional specializing in international trade policy, Géraldine Kutas leverages over a decade of experience to strengthen UNICA's activities across the European Union, the United States and Asia. She has a deep expertise in biofuels and agricultural policies, coupled with extensive exposure to multilateral and regional trade negotiations in agriculture. Ms. Kutas is the author and co-author of several international publications on these topics.
Before joining UNICA, she was a researcher and a professor at the Groupe d'Economie Mondiale at Sciences Po(GEM), Paris, and coordinator of the European Biofuels Policy research programme (EBP). Ms. Kutas has also worked as a consultant at the Inter-American Bank of Development and for agro-business firms.
Ms. Kutas has a Ph.D. in International Economics from the Institut d'Etudes Poliques de Paris and a Master degree in Latin American Studies from Georgetown University, Washington DC.