Here we are! In Paris, following another round of negotiations on climate.
I hope an ambitious agreement can be found at the end of these two weeks and we are happy to provide our contribution to the debate. The sugarcane industry is committed as you can see from our pledges:
We pledge to maintain an average 90% GHG reduction for each litre of gasoline replaced by ethanol in Brazil.
Bioelectricity blog We aim at maximising the use of sugarcane residues to supply clean bioelectricity and biofuels.
Deforestation blogWe do not and never will engage in illegal deforestation activities.
You can come and see our stand, in the UNFCCC area (Blue Zone for the insiders), as of 7 December. We challenge you to answer a few questions on sugarcane. If you are right we will plant a tree in Brazil, with the help of The Green Initiative. You can get some training through our Twitter account @SugarcaneOrg or our website.
Outside the Blue Zone, you'll have several other chances to hear about us, starting from Sunday 6 December at the "World Climate Summit", where our very own Elizabeth Farina, UNICA's CEO, will speak in an interactive panel discussion on bio products and biofuels.
Elizabeth will also speak at the "Sustainable Land Use in Brazil" on Monday 7 December, together with a group of representatives from – among others – the Brazilian agribusiness association, WWF Brazil, and the World Resources Institute.
Finally, on 8 December, the Environment Department of the San Paulo State will launch the Climate Protocol of the State of Sao Paulo at the Brazilian Embassy. As a signatory, UNICA will be there, delivering a few words about the importance of this protocol and how sugarcane can contribute to the reduction of emissions.
Follow us on Twitter for more insights!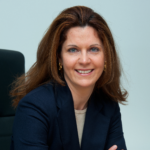 Géraldine Kutas
A seasoned professional specializing in international trade policy, Géraldine Kutas leverages over a decade of experience to strengthen UNICA's activities across the European Union, the United States and Asia. She has a deep expertise in biofuels and agricultural policies, coupled with extensive exposure to multilateral and regional trade negotiations in agriculture. Ms. Kutas is the author and co-author of several international publications on these topics.
Before joining UNICA, she was a researcher and a professor at the Groupe d'Economie Mondiale at Sciences Po(GEM), Paris, and coordinator of the European Biofuels Policy research programme (EBP). Ms. Kutas has also worked as a consultant at the Inter-American Bank of Development and for agro-business firms.
Ms. Kutas has a Ph.D. in International Economics from the Institut d'Etudes Poliques de Paris and a Master degree in Latin American Studies from Georgetown University, Washington DC.