Here we are! The ILUC file is finally over and now it seems that no one wants to hear more about biofuels, especially the Commission.
However, biofuels are alive and kicking and there has been evidence of their presence in the past few weeks!
During his opening speech at the EU Sustainable Energy Week, Commissioner Cañete focused on energy efficiency and didn't even mention biofuels, but he emphasized that the transport sector should be prioritized, particularly through the adoption of ever stricter CO2 emissions standards for vehicles.
In addition, the Commission released the RES progress report showing that the penetration of renewables in transport has been very slow so far, reaching 5,7% in 2014 and concluding that introduction of higher blends of biofuels will be necessary to put biofuels back on track. After all, Cañete declared that "achieving our 10% target of renewable energy in transport [by 2020] will certainly be challenging, yet feasible."
At the conference on decarbonisation of road transport, on 18 June, biofuels were not on the agenda, but the biofuels industry – and not only them luckily! – made it loud and clear that a post-2020 energy framework should include targets for renewables in transport. I was actually pleased to see that after the conference Commissioner Cañete used again the #biofuels hashtag for the first time in some weeks in one of his tweets. To get clarity of the post-2020 biofuel policy we would however need a bit more than a hashtag, Mister Commissioner!
These are all little hints that we shouldn't lose hope and still find the energy to advocate for balanced policies on biofuels and decarbonisation of transport post-2020.
UNICA is fully committed to engaging in the next months for a 'decarbonisation of transport' policy that includes all options available on the market. If we want to reduce our transport emissions, we will need a diverse mix of fuels and technologies. We can't just rely on electric vehicles only – just like we cannot rely only on biofuels. Let's aim for a realistic, greener fuel mix for 2030.
As you can see from the pic below, I had the chance to meet Mr Cañete at EXPO during his visit to the Brazilian Pavilion and hopefully my message came across!

Commissioner Arias Cañete, Dr. Roberto Rodrigues and Géraldine Kutas discussing in front of the sugarcane at the Brazilian Pavilion (Expo Milan).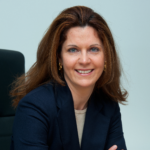 Géraldine Kutas
A seasoned professional specializing in international trade policy, Géraldine Kutas leverages over a decade of experience to strengthen UNICA's activities across the European Union, the United States and Asia. She has a deep expertise in biofuels and agricultural policies, coupled with extensive exposure to multilateral and regional trade negotiations in agriculture. Ms. Kutas is the author and co-author of several international publications on these topics.
Before joining UNICA, she was a researcher and a professor at the Groupe d'Economie Mondiale at Sciences Po(GEM), Paris, and coordinator of the European Biofuels Policy research programme (EBP). Ms. Kutas has also worked as a consultant at the Inter-American Bank of Development and for agro-business firms.
Ms. Kutas has a Ph.D. in International Economics from the Institut d'Etudes Poliques de Paris and a Master degree in Latin American Studies from Georgetown University, Washington DC.