The 40-year anniversary of 1973's OPEC oil embargo is an important milestone in the world's transition toward renewable sources of fuel. Many media outlets and respected energy leaders have been looking back over the past four decades, searching for lessons learned.  Among the best retrospectives I've read is a feature story in E&E News' ClimateWire – a respected policy-insider publication headquartered here in Washington – that recounts how price spikes and fuel shortages prompted a renewable fuels revolution in Brazil and helped create "the most successful biofuel industry in the world."
This "Brazilian experience" with renewable energy and sugarcane ethanol reads like a primer on how stable policy and investment in new technologies can fuel a green economy while cutting emissions and dependence on foreign oil. Today, sugarcane ethanol has replaced almost 40% of Brazil's gasoline demand while cutting nearly 200 million tons of carbon dioxide emissions.
The full ClimateWire article is an excellent read, and a few key excerpts jump off the page to underscore the power of clean and renewable fuels:
Stable government policy was necessary at first – Brazil initially relied on government mandates to start the transition away from gasoline. By mandating ethanol blending in gasoline, requiring installation of pumps dispensing pure ethanol, funding research and development, and encouraging carmakers to build vehicles that could run on ethanol, sugarcane ethanol became a reality virtually overnight.
"By 1977, gasoline-ethanol blends had arrived at the pump. The sugarcane industry invested in new fields. New ethanol mills dotted the landscape. The World Bank and national financial institutions structured a financing system to support the investment."
Sudden policy changes threatened growth – When Brazil transitioned to a democracy and the price of oil dropped in the 1980s, the national government considered dropping ethanol support, threatening a fast-growing industry even though consumer demand was clear.
"The government could not shut it down in one step because so many people had ethanol cars…there was a lot of tension between fiscal pressure and the number of cars in the street."
But stable technology investments saved the day – Even though Brazil's cut funding, automakers maintained investments in new ethanol vehicle technologies. By the time oil prices rose again in the early 2000s, flex-fuel vehicles were ready to meet market demand.
"The decision on which fuel people would use was transferred from the government to consumer…Flex-fuel vehicles rapidly became the best-selling cars in Brazil."
Brazilian consumers have real options at the pump – The combination of technological investments, environmental and economic benefits, and steady government policy helped create a booming domestic biofuels economy and holds lessons for America's policymakers.
"'We need to focus on being as smart as the Brazilians,' R. James Woolsey, former director of the CIA and chairman of the Foundation for Defense of Democracies, said in a discussion on energy security and independence."
"Because the United States had not widely encouraged the development of flex-fuel vehicles, the country now faces the possibility of a blend wall: too much ethanol and not enough gas tanks to take it…The goal for the United States shouldn't be to completely displace oil, experts said, but to encourage a greater mix of fuel sources."
Indeed, as debate over the future of advanced biofuels policy intensifies, it's important to remember that a stable Renewable Fuels Standard (RFS) has encouraged advanced biofuels use in the U.S. while driving innovations in renewable fuels that boost American economic growth and energy security while cutting emissions.
Brazil will continue to be a strong, dependable partner helping America meet its clean energy goals.  And Brazilian sugarcane producers will continue to play an active role in the RFS rulemaking process serving as a source for credible information and analysis about the efficiency and sustainability of sugarcane ethanol.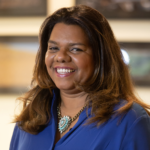 Leticia Phillips
Leticia Phillips is UNICA's Representative for North America. Ms. Phillips is an expert on Brazil-US relations and leads the Brazilian sugarcane industry's advocacy efforts before the main stakeholders in the region, including the US Congress, Federal agencies, State legislators and business and civil society.