Brazil may be the world's largest producer of sugar, but the nation's sugarcane harvests aren't just winding up in your cup of coffee. They're flowing into gas tanks as low-emission sugarcane ethanol, generating clean electricity from biomass to help fight climate change, and creating the future of clean renewable fuel through next-generation biofuels.
As the world's sugar industry gathers at the 4th annual Platts Kingsman Miami Sugar Conference, it's worth considering the modest but important role Brazilian sugarcane ethanol exports play in meeting not only the U.S. Environmental Protection Agency's (EPA) Renewable Fuel Standard (RFS) and California Low Carbon Fuel Standard (LCFS) targets, but the world's biofuel needs.
Platts' conference will examine major trends facing the global sugar industry, and representatives of Brazilian sugarcane industry will share insights on topics like ethanol fuel supplies, sugar production and exports, and industry sustainability efforts – all reasons why we're proud to be official conference sponsors.
REGIONAL SUGAR MARKETS AND CHALLENGES OF OVER-SUPPLY
Brazil sent nearly 630 million tons of sugarcane to crush in 2016-2017, producing nearly 34 million tons of sugar, and exporting nearly 27 million tons. As the top global producer, Brazil helps demonstrate how sugar supplies can be brought to market and avoid oversupply challenges.
Sugarcane ethanol has proven to be an extremely effective outlet for Brazil's sugar output. Brazil currently produces more than 7 billion gallons of sugarcane ethanol per year, and typically makes between 400-800 million gallons of its production available for other countries to import. Over the past five years, nearly 1.2 billion gallons of sugarcane ethanol imported from Brazil flowed into American vehicles, providing nearly one-tenth of all advanced fuels consumed by Americans, with at least 61 percent fewer emissions than gasoline.
Those numbers are significant, but they pale in comparison to Brazil's domestic consumption. Ethanol and bioenergy produced from sugarcane already constitutes 15.7 percent of Brazil's energy mix, replacing more than 40 percent of gasoline demand and avoiding 600 million tons of carbon dioxide emissions since the ethanol program began in the 1970s – all while using less than 1.5 percent of the country's arable land.
UPDATES ON ETHANOL PROGRAMS AND COGENERATION
Even with existing sugarcane ethanol successes, Brazil is advancing technology further into the future. Increased production efficiencies mean even more sugarcane ethanol flows from fields to fuel tanks.
Indeed, Brazil has the potential to replace 14 percent of global transportation fuel demand without altering current sugar production – a big boost in the fight to cut emissions. By 2050, global energy needs could double, increasing emissions up to 80% unless we pursue low-carbon fuel options.
Sugarcane ethanol producers are also pushing the envelope on cogeneration using leftover stalks (bagasse). Self-sufficient sugarcane mills use bagasse to power their operations instead of fossil fuels, often producing enough power to sell clean electricity back to the grid. In 2016, Brazil produced 15 million megawatt-hours of bioelectricity from cogeneration, and technology improvements could help this technology supply more than 20 percent of domestic electricity demand by 2023.
BRAZIL'S RECIPE FOR A SWEETER SUGAR(CANE) FUTURE
Add it all together, and the "Brazilian experience" of using sugarcane to power a renewable energy future is a recipe for success on how stable policy and investment in new technologies can fuel a green economy while cutting emissions and dependence on foreign oil.
This is an important point. The World Energy Council reports fossil fuels generate 63 percent of total global emissions, with transportation fuel generating 28 percent of U.S. emissions and 17 percent of Brazilian emissions.
So when it comes to creating a sweeter future for sugar and biofuels, follow the leader – Brazil.
###
MORE ABOUT THE PLATTS KINGSMAN MIAMI SUGAR CONFERENCE
Leticia Phillips, North American Representative, The Brazilian Sugarcane Industry Association (UNICA) will participate in a session titled, Sustainability for the Sugar Industry on Tuesday, September 12, at 4:45 p.m. The session will address:
– Changes in the expectations of sugar buyers
– A new outlook in the next few years
– How are sugar producers planning to meet the requirements of buyers?
– Examples from Brazil and other countries
To register to attend the conference, please click here.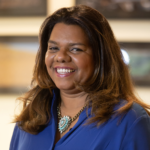 Leticia Phillips
Leticia Phillips is UNICA's Representative for North America. Ms. Phillips is an expert on Brazil-US relations and leads the Brazilian sugarcane industry's advocacy efforts before the main stakeholders in the region, including the US Congress, Federal agencies, State legislators and business and civil society.