A couple of new reports released this month in Brussels carry a similar message: Sustainable biofuels, like sugarcane-based ethanol from Brazil, will need to play a significant role if the decarbonization of European transport is going to happen longer term.
There's also another important message in the two studies, one by E4Tech and the other by CE Delft/TNO:  the EU still has an opportunity — especially with a new Commission and new European Parliament taking over in 2014 — to cultivate the right policy environment in order to move industry toward producing more advanced biofuels and enabling higher blending rates of sustainably produced biofuels for gasoline and diesel.
"Currently there is no 2030 policy environment for biofuels. There is also an urgent need for specifications for new biofuel blends for policy to promote high quality advanced biofuels and compatible vehicles, and a framework that addresses biofuel sustainability issues," says E4Tech, a consultancy, which released its findings on Tuesday. E4Tech's report was commissioned by a consortium of Daimler, Honda, Neste Oil, OMV, Shell and Volkswagen.
Through the E4Tech study, that group of automakers and fuel producers is pushing an Auto-Fuel Roadmap that recommends a series of achievable steps, based on evidence, that can be put into place in the coming years by policymakers and industry alike.
In particular, the E4Tech study lays out a timeline for a series of key actions, including an EU policy and fuel standards' aim for the roll-out of maximum 10% ethanol, or E10, into gasoline by 2020; introducing E20 by 2025; and mandating, via policy, that all new gasoline vehicles are E20 compatible from 2018.
Such goals are already feasible with current technologies and with the direction that budding technologies are taking. The targets are also achievable in parallel with meeting critical sustainability requirements and cutting greenhouse emissions. In Brazil, the introduction of flex-fuel vehicles (FFVs) ten years ago has allowed Brazilians to freely decide which fuel they want to use. FFVs can run on either petrol or pure ethanol, or any blends of the two. That freedom of choice in Brazil also comes with the benefit of benefit of reduced carbon emissions, given the high CO2 emission reductions (71% according to EU Renewable Energy and Fuel Quality Directives) that sugarcane ethanol achieves versus fossil fuel. And Europeans should have the same freedom of choice and environmental benefits, particularly in light of recent World Health Organization assessments showing that air quality remains a pressing problem in many European cities and countries.
The E4Tech study's findings are also echoed in another report unveiled earlier this month from CE Delft/TNO, which produced its study at the request of the European Commission. "It is essential for governments and industry to decide within 1 or 2 years on the way ahead and take necessary actions covering both, the fuels and the vehicles, to ensure their effective and timely implementation," CE Delft/TNO said in its report.
Like the E4Tech study, CE Delft/TNO says higher blending ratios are technically feasible and would move Europe toward greater decarbonization in transport, which remains one of the main sources of global carbon emissions.
To be sure, to realize the projections and recommendations of both reports — like biofuels accounting for 15% of transport fuel in 2030 in Europe versus about 5% today, as E4Tech projects — a lot of things need to happen. Yet it's an important signal that some key automakers and fuel suppliers are working in parallel to move Europe closer to its climate abatement and energy supply security goals.
But will the EU play its role in providing the proper longer-term policy signals? Let's hope that the new Commission and Parliament will size this opportunity next year.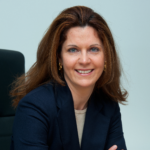 Géraldine Kutas
A seasoned professional specializing in international trade policy, Géraldine Kutas leverages over a decade of experience to strengthen UNICA's activities across the European Union, the United States and Asia. She has a deep expertise in biofuels and agricultural policies, coupled with extensive exposure to multilateral and regional trade negotiations in agriculture. Ms. Kutas is the author and co-author of several international publications on these topics.
Before joining UNICA, she was a researcher and a professor at the Groupe d'Economie Mondiale at Sciences Po(GEM), Paris, and coordinator of the European Biofuels Policy research programme (EBP). Ms. Kutas has also worked as a consultant at the Inter-American Bank of Development and for agro-business firms.
Ms. Kutas has a Ph.D. in International Economics from the Institut d'Etudes Poliques de Paris and a Master degree in Latin American Studies from Georgetown University, Washington DC.