As COP24 approaches it is clear that we are nowhere near to being on track to meet the commitments made at Paris. Much more needs to be done just to meet those obligations, and even if we did, this still wouldn't be sufficient to contain the rise in average temperatures to 1.5 degrees. There is therefore an urgent need in Katowice not only to adopt the robust package of decisions that will ensure the full implementation of Paris pledges, but also the additional measures that will be needed to keep the rise in temperatures within the target limit.
One of the stated objectives of the summit is to attain a balance in GHG emissions management, between cutting emissions and enhanced sequestration.
In that context, UNICA is proud to be able to present Brazil's Renovabio initiative during COP24. As part of its commitments made under the Paris accord, Brazil's Renovabio is a key strategic initiative for alternative fuels that aims at reducing Brazil's total GHG emissions in the transport sector by 10% by 2028 on 2017 levels. Kicking off in 2020, it includes all biofuels (biodiesel, biogas, bio-kerosene), not just ethanol. Indeed, Renovabio establishes long-term guidelines based on a technology neutral approach, without applying any additional taxes or offering subsidies. As Renovabio is a state policy rather than a government programme it provides stability and predictability. It is a new performance indicator for biofuels producers that will improve processes and increase efficiency. It provides long-term guidelines for investments, and recognition of biofuel's positive environmental externalities. Greater controls on production activities are required by its certification process. Under a double control system, producers' production methods will be subject to official inspection as they apply for certification (required to participate in the programme). Fuel distributors will face financial sanctions for non-compliance with their obligations in terms of carbon intensity (CI) reduction. Obligations are therefore shared across the value chain -by producers, to ensure they produce sustainably, and by distributors, to ensure they achieve targets in terms of CI reduction.
The Renovabio initiative is expected to significantly enhance future perspectives for the industry, and stimulate healthier margins, leading to significant investments. According to the Brazilian Ministry of Mines and Energy, Renovabio is expected to save 847m tonnes of CO2-equivalent emissions, cut transport fossil fuel imports by some 300bn litres, and create 1.4m jobs on the back of an investment of some €323bn (US$368bn). Renovabio will promote new know-hows by rewarding efficiency gains in a technologically-neutral way. This will induce new investments in emissions reduction techniques, for example in biogas production, or the use of new cane varieties for sugarcane ethanol.
Sugarcane ethanol is an enabling technology that helps countries meet their climate commitments and cut transport emissions – 90% less GHG emissions than petrol. Sugarcane ethanol is widely deployed in Brazil, where more than 200  flex-fuel vehicle (FFV) models are available, 76% of the national feet and 95% of all new-car sales are FFVs. New E-Flex vehicles (running on electricity and ethanol) are now coming on line in Brazil, with tests on the Toyota Prius E-FLEX being concluded. VW Trucks and Buses Brazil said it will start test on an E-FLEX bus in six months.
Brazil is the world's second largest ethanol producer, producing just under 30bn litres of ethanol annually. Domestic consumption accounts for 90% of that production, and exports amount to only 1.4bn litres a year. Brazil's ethanol production is set to increase significantly over the next 10 years, rising to a projected 47.2bn litres by 2028. With sugarcane produced on only 0.5% of the national territory, Brazil can easily ramp up its production of sustainable ethanol, which neither competes with food or compromises native vegetation or forests – expanded ethanol production is projected for degraded pasturelands, which are being recovered for this purpose. This will help stabilise the soils of these degraded lands, capture more CO2in the carbon sink, and provide plentiful GHG-cutting sugarcane ethanol for transportation for other countries around the globe in our joint fight against transportation emissions.
It's time to speed up on cutting transport emissions! Brazilian sugarcane ethanol can help fuel this global drive.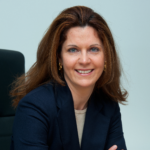 Géraldine Kutas
A seasoned professional specializing in international trade policy, Géraldine Kutas leverages over a decade of experience to strengthen UNICA's activities across the European Union, the United States and Asia. She has a deep expertise in biofuels and agricultural policies, coupled with extensive exposure to multilateral and regional trade negotiations in agriculture. Ms. Kutas is the author and co-author of several international publications on these topics.
Before joining UNICA, she was a researcher and a professor at the Groupe d'Economie Mondiale at Sciences Po(GEM), Paris, and coordinator of the European Biofuels Policy research programme (EBP). Ms. Kutas has also worked as a consultant at the Inter-American Bank of Development and for agro-business firms.
Ms. Kutas has a Ph.D. in International Economics from the Institut d'Etudes Poliques de Paris and a Master degree in Latin American Studies from Georgetown University, Washington DC.