Considering the traffic these days in Brussels, it really looks like EU institutions are back to school, and so are we! Let's have a look at what's coming our way to give you a little taste of what we'll be talking about over the next few months.
And talking about traffic and transport, the months ahead will be rich of news in the sector.
COP21 is approaching fast (less than 100 days to go now) and the pressure is rising for World leaders to work towards and reach an ambitious and binding climate deal in Paris. The European Commission has committed to reducing its GHG emissions by 40% in 2030, and given the extent of the challenge, all sectors will have to make the necessary efforts to achieve this objective. Indeed, according to the latest Commission reports, the pace of renewables' penetration in the transport sector has been slow so far (only 5.7% in 2014). All eyes have now turned to the post-2020 framework, around which most of the EU transport debate will revolve in the coming months.
The Commission is getting ready and is scheduled to release a Communication on the Decarbonisation of Transport in the first half of 2016. The question is: what is this strategy going to look like? A few weeks ago, the Commission closed a consultation on the review of the 2011 White Paper on Transport. The verdict? It's something that UNICA has been advocating for long time: intermediate targets are needed if the EU is serious about achieving its long-term transport decarbonisation objectives. So most of the respondents also said!
The role of electric cars will be important, there's no one denying that. But in 2030, 90% of EU vehicles will still be running on fuel, according to a recent E4Tech report. That's why we'll also need lighter and more efficient cars. The Commission has said it is looking at stricter emission standards for road vehicles. But and perhaps most importantly, we'll need cars using cleaner fuels. Smarter fuels. And that's where ethanol can make a difference.
Too often biofuels are seen as a unitary group of transport fuels, regardless of their differences. Smart biofuels are those using production processes, which are responsible and sustainable. Not only do they help decarbonize transport, they can also contribute to a thriving economy. Don't take our word for it, take that of the Director General of the Food & Agriculture Organization (FAO)! Brazilian sugarcane ethanol does precisely that. It reduces GHG emissions by 90% compared to traditional fossil fuels, it is mostly grown on degraded pastureland, hence not competing with food crops, and it's creating good jobs.
But that's not all. You've probably heard of 'Smart Cities', the more efficient, sustainable cities of the future. Sugarcane ethanol can also help make these cities a reality through waste-to-energy processes. One example: bagasse, the fiber residues resulting from sugarcane processing, can and has been used to generate bioelectricity in Brazil, where this has helped reduce emissions of more than 300 million tons of CO₂ in the atmosphere since 2003. Adding to its lower GHG emissions and air quality advantages over traditional fuels, smart biofuels will need to play a role in urban transportation if we are to build a truly sustainable transport system for EU citizens.
The choice is simple; either we stick with the old policies, which fail to make real progress, or we adopt new, smarter ones, which include a role for all greener transport solutions, including ethanol. We still have a few months to help the EU do that, so let's get back to work!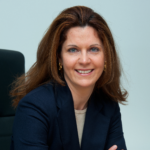 Géraldine Kutas
A seasoned professional specializing in international trade policy, Géraldine Kutas leverages over a decade of experience to strengthen UNICA's activities across the European Union, the United States and Asia. She has a deep expertise in biofuels and agricultural policies, coupled with extensive exposure to multilateral and regional trade negotiations in agriculture. Ms. Kutas is the author and co-author of several international publications on these topics.
Before joining UNICA, she was a researcher and a professor at the Groupe d'Economie Mondiale at Sciences Po(GEM), Paris, and coordinator of the European Biofuels Policy research programme (EBP). Ms. Kutas has also worked as a consultant at the Inter-American Bank of Development and for agro-business firms.
Ms. Kutas has a Ph.D. in International Economics from the Institut d'Etudes Poliques de Paris and a Master degree in Latin American Studies from Georgetown University, Washington DC.