Policymakers around the world are working on plans which promise to phase out fossil fuels and introduce a carbon neutral environment for future generations. 
The European Union's Green Deal seeks to make the Continent climate neutral by 2050, a target to be enshrined in the European Climate Law. It calls for a 40 percent reduction in greenhouse gases (GHG) by 2030. This target could be further increased to a reduction of 55 percent by 2030, pending adoption of the 2030 Climate Target Plan and an amendment of the European Climate Law.
In the US, a plan released by the House Select Committee on the Climate Crisis at the end of June is equally ambitious and offers a roadmap for policymakers willing to take dramatic action on climate change.
To meet these ambitious goals, countries will rely on available alternatives such as sugarcane ethanol, as well as emerging technologies like electric vehicles (EVs), to fill the void left by fossil fuels.
Sugarcane ethanol is a proven technology for GHG reduction. Brazil's near-complete adoption of the biofuel has significantly reduced GHG emissions and cleaned the air of pollutants.
The air quality in São Paulo reinforces this point. In 2019, the fourth most populated city in the world ranked 879th in pollution levels – in large part because nearly 80 percent of all cars and light-duty trucks in Brazil run on pure sugarcane ethanol or an ethanol-gas blend.
Carbon emissions from sugarcane ethanol are already the lowest amongst all powertrains in use around the world, and hybrid and flex ethanol can score even better than EVs.
The proposals currently in discussion in the US and EU may place too much of an emphasis on the deployment of EVs, and critics also continue to raise questions about retooling national infrastructures to accommodate millions of EVs.
We must acknowledge that internal combustion vehicles will be on the roads for decades to come, but sugarcane ethanol is a solution which enables drivers to reduce their carbon footprint now.
We wholeheartedly support the continued advancement of different car technologies, like EVs, which move us away from fossil fuels, but we must also accept there is no single solution to tackle the challenges currently facing the transportation sector.  Different countries will need different solutions and policies must reflect this reality.
As leaders debate these climate plans, we urge them to remember that sugarcane ethanol powered vehicles are already among the best performer and that we are committed to keeping it that way.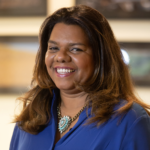 Leticia Phillips
Leticia Phillips is UNICA's Representative for North America. Ms. Phillips is an expert on Brazil-US relations and leads the Brazilian sugarcane industry's advocacy efforts before the main stakeholders in the region, including the US Congress, Federal agencies, State legislators and business and civil society.