Welcome to our first blogpost directly from the 2011 edition of the Ethanol Summit, one of the world's top events focused on renewable energies, which takes place in São Paulo, Brazil today and tomorrow.
Today was an exciting and enriching debate surrounding solutions for a low-carbon economy. The day was kicked off with several Brazilian government officials sending a clear message to an audience of over 2,000 researchers, executives and renewable energy enthusiasts: the importance of sugarcane by-products as a solution to increasing global energy needs and climate change mitigation, as well as the need to increase the production capacity of the sector to supply this demand. As Geraldo Alckmin, governor of São Paulo, the main ethanol-producing state in the country, clearly stated: the benefits of ethanol go beyond what is initially imagined. An aspect that sometimes is not given so much attention is the impact of ethanol use on public health, and how ethanol use can reduce local pollution and result in fewer respiratory related hospitalizations and deaths.
However, the debate heated up during "The Future of Oil and Role of Biofuels" panel, where top executives from major oil companies (BP, Petrobras, Shell and Total) where challenged by Vinod Khosla, a well-known investor in clean technology, better known as one of the co-founders of Sun Microsystems. All four oil companies had high praises to sugarcane as being the only feedstock that is able to compete with oil, and which reduces greenhouse gas emissions by 90 percent on average compared to gasoline, the best environmental performance of any biofuel produced at commercial scale. Nevertheless, Mr. Khosla emphatically pointed out that, despite these recognized benefits, investments from oil companies were still extremely shy. "The bad part of innovation is failing. But investors like us should not be afraid to fail. We have to commit to taking risks," said Mr. Khosla. He also reiterated that ethanol is not the only fuel of the future. The opportunity is also on non-ethanol molecules, from biomass the "and beyond" that we always like to point out.
At the end of the day after discussions that ranged from certification to public transportation, bioelectricity, investments in the sector and new products from sugarcane, the last plenary session gathered speakers that represented ¼ of the total sugarcane production in Brazil. These top executives sat down to talk about the future of the sugarcane industry by 2020 and beyond. Despite the many challenges that the Brazilian sugarcane industry faces, especially in the area of logistics, hopes and investments are expected to rise in the next decade.
All in all, today's event was a positive debate that engaged people from different backgrounds, industries, countries and even technologies. But at the end of a long day of work, we conclude that events like these are not only important for the industry to showcase our accomplishments, but also recognize the challenges and opportunities that lay ahead. All that can be offered by this low-carbon plant: sugarcane.
Tomorrow we have a fully-packed day. Don't forget to watch the live debate!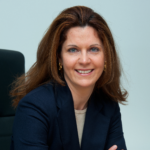 Géraldine Kutas
A seasoned professional specializing in international trade policy, Géraldine Kutas leverages over a decade of experience to strengthen UNICA's activities across the European Union, the United States and Asia. She has a deep expertise in biofuels and agricultural policies, coupled with extensive exposure to multilateral and regional trade negotiations in agriculture. Ms. Kutas is the author and co-author of several international publications on these topics.
Before joining UNICA, she was a researcher and a professor at the Groupe d'Economie Mondiale at Sciences Po(GEM), Paris, and coordinator of the European Biofuels Policy research programme (EBP). Ms. Kutas has also worked as a consultant at the Inter-American Bank of Development and for agro-business firms.
Ms. Kutas has a Ph.D. in International Economics from the Institut d'Etudes Poliques de Paris and a Master degree in Latin American Studies from Georgetown University, Washington DC.